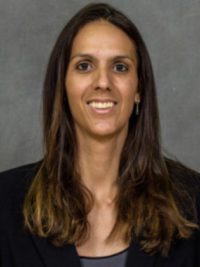 Michelle Collier /
Head Coach
Michelle Collier is in her fourth year as head coach of the Georgia Tech volleyball team. She was named the eighth head volleyball coach at Georgia Tech in March 2014.
In her second season at the helm of the Yellow Jackets' program in 2016, Collier coached the Jackets to their best record since 2012 (18-14 overall and 9-11 in ACC play). During the season, the program eclipsed 700 wins overall and finished the year with a total of 641 at the Division I level with key road victories at Virginia Tech and Clemson, and a sweep of Duke at home.
The Jackets finished 2015 with 1,637 kills, which are the most since 2010. Tech started the season 9-2 for its best start since 2012, and went on an eight-match winning streak for the longest winning streak since 2006.
Collier coached Teegan Van Gunst to AVCA honorable mention all-America honors, AVCA all-region honors and an all-ACC first team selection.
In 2014, Collier led the Yellow Jackets to improvements of more than 100 kills than the 2013 team and posted a better hitting percentage (.216 to .182) overall for the year. In addition, the team finished better in almost every statistical category from the previous season.
Read more...
Claudio Pinheiro /
Assistant Coach
Claudio Pinheiro joined the Georgia Tech volleyball coaching staff as an assistant coach in August 2017.
Pinheiro, a native of Rio de Janeiro, coached with the Brazil Women's National Team since 2005 and served as the head coach for the U23 Brazil Women's National Team from 2011-14. In addition to coaching at the top level in Brazil, he has also coached at the professional level in Turkey, Porto Rico, and Spain.
With the Brazilian National Team, he claimed gold medals at the 2012 London and 2008 Beijing Olympic Games.
Read more...